Foreign Languages for Great Success
More than 25 years on the market!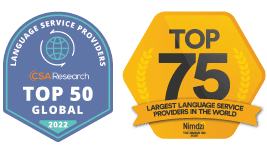 YOUR TRANSLATION BUREAU AND LANGUAGE TRAINING CENTRE SKRIVANEK
1
Skrivanek is one of the major language services providers in the world, with more than 25 years of experience in the field of language services. Currently it has almost fifty branches in various countries across the world. Skrivanek Baltic has been operating in Latvia since 2003, offering its customers high-quality language services.
Languages in different combinations
WE PROVIDE LANGUAGE SOLUTIONS FOR DIFFERENT INDUSTRIES
IN MORE THAN 300 LANGUAGE COMBINATIONS
RELIABILITY, SPEED AND QUALITY OF SERVICES

KRKA d.d.
The employees of Skrivanek are helpful, accommodating, and have an understanding approach to the specifics of our pharmaceutical translation tasks and translations from various language combinations. Orders are executed to a high standard in accordance with the highest professional and ethical competence and according to deadlines set.


Sandoz d.d.
We recommend Skrivanek Baltic as a reliable partner for any large scale projects requiring professional language services.


Adidas Baltics
The employees of Skrivanek are helpful and have an understanding approach to the specifics of our translation tasks from Baltic languages. Adidas Baltic recommends other companies to use the services provided by this company.

Get a Price Quote / Send Your Question
Frequently Asked Questions
What is Skrivanek Baltic?
Skrivanek Baltic is a certified translation agency, which has been operating and offering language services of the highest quality in Latvia since 2003. Skrivanek is one of the major language services provider in the world, with more than 25 years of experience. We currently have nearly 50 branches in various countries: USA, Austria, Belgium, Bulgaria, Czech Republic, Estonia, Lithuania, Poland, Slovakia, Slovenia, and Germany. The Skrivanek Baltic Language School was opened in 2007, giving both children and adults an opportunity to improve or acquire new foreign language skills with the help of highly qualified and knowledgeable lecturers, as well as to receive detailed information about languages.
How much will translation services cost?
Prices for translation services are calculated according to the number of words in the source document, the language pair, and other aspects. Send us your documents, and we will provide you a quote on the service price before beginning the translation. Receiving a free quote does not give you any obligation to cooperate with us.
Does the service price include VAT?
Yes, all prices for natural persons are inclusive of VAT. For corporate clients, prices are shown excluding VAT. Under the regulation of the EU we do not charge VAT on services provided to VAT-registered businesses in other member countries. According to the reverse-charge regulation tax liability transfers to the recipient of services.
How can I count the number of words in my document?
If you have a Microsoft Word document, use the Word Count feature (Review à Word Count). If your document is in another format (a printout, JPG, HTML, PHP, ASP, etc.), send it to our e-mail and we will give you a free quote.
When will the order be ready?
We will agree on the deadline before starting the order. Generally, translating 500 words or less will take one full working day, while translating 1000 words and more will take at least a day and a half. In exceptional cases, we also perform urgent translations.
What format does my document have to be in?
It can be in any electronic format – we can handle many formats. If your document is not available electronically, send it to us as a photo.
What kind of texts can you translate?
We can translate anything in virtually any electronic format, while still preserving the formatting of the original document. In the case of localisation services, we stick to the specific instructions provided by the client or settings dictated by software.
Can you translate my website?
We'd love to! Skrivanek has vast experience and knowledge in translating and localising different websites and content management systems. We always ensure a professional approach and find the most suitable solution for your specific situation to ensure the best results in the respective language combinations.
Do you provide services to natural persons?
Although most of our translation requests come from legal entities, we gladly work with natural persons as well. Notary-certified translations is the most common service among natural persons. Language courses, and camps for children and youths are also popular.
What is the difference between an interpreter and a translator?
Can you preserve the original formatting of my document?
Whenever possible, we work with the original documents electronically, without making any changes to style or formatting. When necessary, we guarantee that the translation of the client's document looks just like the original or format it according to the client's instructions with the help of our DTP team.
How can you guarantee reliable translations?
We are certified according to ISO 9001, EN 17100, EN ISO 14001, EN ISO 18585 and ISO 2700. We are committed to confidentiality, take responsibility for everything we do, and are always on time! EN 17100 specifies requirements for all aspects of the translation process directly affecting the quality and delivery of translation services. For our clients' peace of mind we have signed a professional liability agreement with the international insurance company Colonnade Insurance S.A. We also provide translations with notary certification or certify them ourselves.
Is the translation done by the same person I am communicating with?
No, all translation orders are accepted and overseen by project managers, who form an effective link between clients and suppliers. Skrivanek Baltic translators and interpreters can provide services in more than 110 languages.
What type of services do you provide?
We provide great variety of language solutions – translation and interpreting services, localisation services, text adaptation, copywriting, DTP and language training. Interpreting is provided at conferences and business meetings, as well as during court proceedings. Translating includes specialised and general translations across a variety of industries.
Can I choose the same language specialist that I have worked with before?
Yes, oftentimes we even create teams of language specialists for our cooperation partners, which means that the services are provided by the same translators or interpreters as before. We welcome your feedback and will gladly engage the same language specialist. Our regular clients also have their own project managers.
How many hours a day can an interpreter work?
It depends on each individual case and your needs. Only you can decide how many hours an interpreter should spend with you.
How is text adaptation different from regular translation?
When the text is intended for marketing or advertising purposes, a simple translation will not cut it – more often than not the text has to be localised and idioms and other expressions have to be changed to ensure that the meaning can be easily picked up by the target language users. This is when texts are adapted to fully conform to the requirements of the target language audience.
What are translation tools?
Computer-Assisted Translation (CAT) tools are programmes intended to facilitate the translation process. Translation tools do not rely on computerised or automated translation, but they allow to carry out translations faster, ensure consistent use of terminology, reduce translation costs, and provide other advantages. These tools also allow all translated texts to be saved, which means that identical sentences only have to be translated once. They are especially helpful when translating financial and technical texts, as well as medicinal product descriptions, websites and software.